Pisa
Pisa is an old city, without anyone knowing exactly how old. It certainly dates back before the Romans, but its origins remain somewhat of a mystery Pisa is located in the province of Tuscany, on the banks of the Arno River and is near the coast of the Liguian Sea.
Pisa's Piazza
Pisa's most famous sites are located in the Piazza dei Miracoli or "Sguare of Miracles."
View from the top of the Tower (360°)
The Leaning Tower
If I were to ask who the architect of the Leaning Tower of Pisa, I would get a variety of answers. The truth is no one knows, and it was hardly a one man job. Construction began for the Tower in 1173 and wasn't completed until 1360. Delays were due to several factors, but the most major was probably the lean. When the builder reached the third floor, they stopped because the tilting became aparent. Many different architects over the years tried to counteract the pull of gravity and a sandy foundation. The tower actually has a curve built in it to try to counteract the sinking. When we went, there were cables reinforcing the tower. Tower is a working bell tower and was built for the Duomo or Catherdral right next door.
The Duomo di Pisa
This Cathedral is the heart of the square. It was the first built. Construction began 1064. It contains artwork by famous artists Giambolna, Dela Robbia, Riminaldi, Bonnano and Giovanni Pisano, and others. The Duomo suffered from a fire in 1595, after which it was largely redecorated.
The Baptistry
The Baptistry of St John has a large round Romanesque dome, which provides excellent acoustics. It is the largest baptistry in Italy. Construction began 1153, but was not completed until 1363 because it encountered similar issues as the Leaning Tower. It also has a slite tilt of 0.6 degrees.
The Campo Santo
This cemtery lies at the northern edge of the Piazza. This walled area was built to move exsisting graves around the Duomo, making the cathedral more accessible. It was built around the 13th century. Bombing during WWII destroyed the ceiling and damaged the artwork which once adorned the walls. In the picture on the left you can see the original city wall and main entrance to the square in medieval times.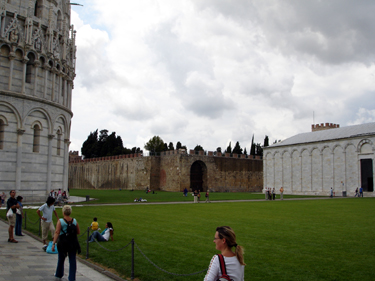 Museo delle Sinopie
The surviving murals from Campo Santo are now housed in the Museo delle Sinopie.